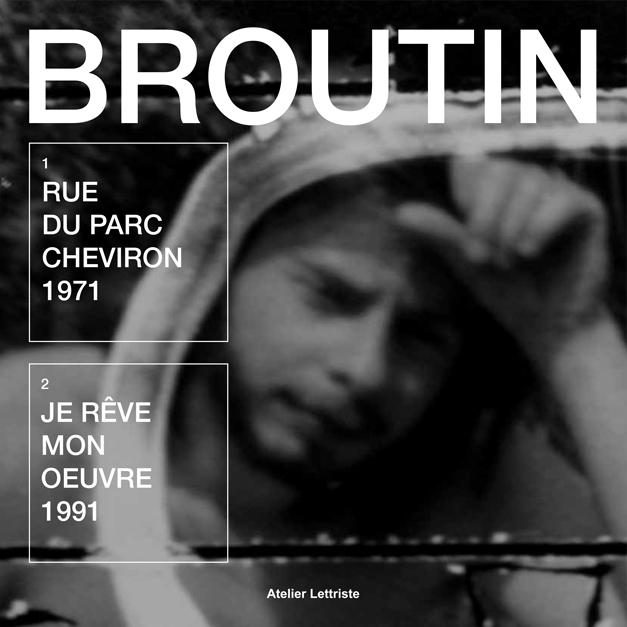 1. RUE DU PARC CHEVIRON 1971
2. I DREAM OF MY WORK 1991

Oktober 02 2018

An edition composed of 56 pages, size 21 x 21 cm, cover paperback, binding staple bound.


Order: Librairie Lecointre & Drouet https://lecointredrouet.com/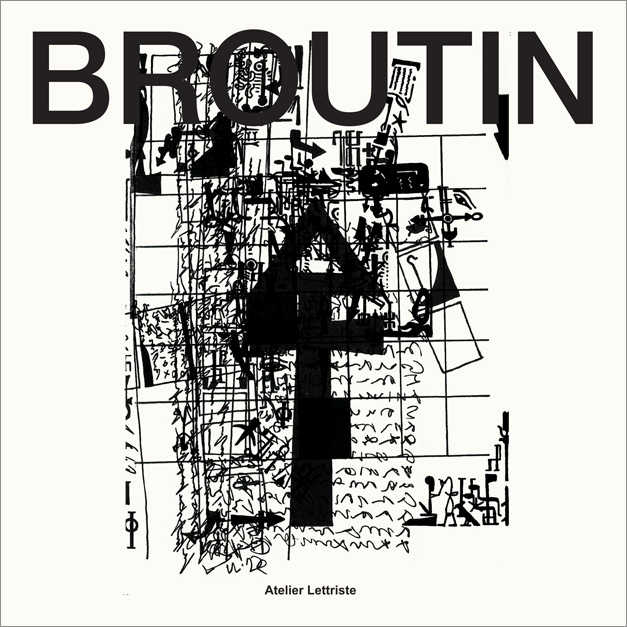 THE BOOK OF THE LIVING 1969

September 18 2018

An edition composed of 52 pages, size 21 x 21 cm, cover paperback, binding staple bound.


Order: Librairie Lecointre & Drouet https://lecointredrouet.com/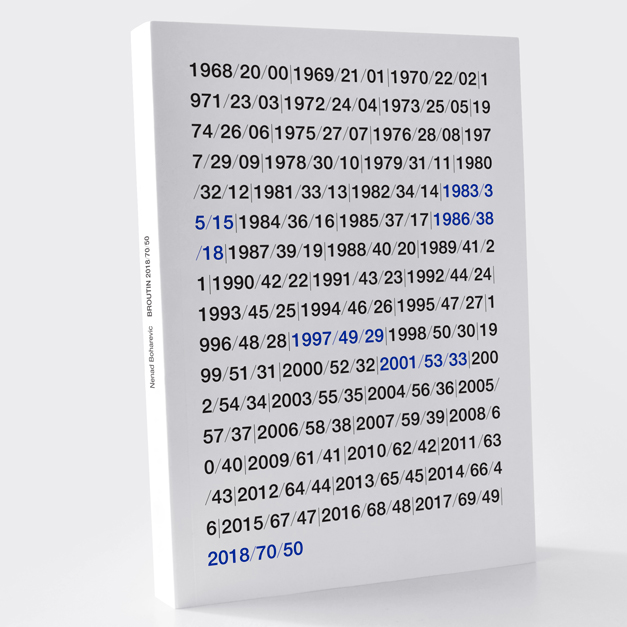 BROUTIN 2018 / 70 / 50

August 19 2018

An edition composed of 132 pages, size 21 x 29,7 cm.
This book containing some fifty works produced between 1968 and 2018 is a tribute to Broutin for his 70th birthday and 50 years of Lettrist activity.

Pages numbered in blue representing the years of "productive inactivity" are completed and enhanced with Broutins original drawings.

Introductory texts: Jean-Pierre Gillard, Isidore Isou, Frédéric Acquaviva and Maurice Lemaître.

Images selection (with Broutin) and graphic design: Nenad Boharevic

Edition: Nenad Boharevic, Berlin, August 2018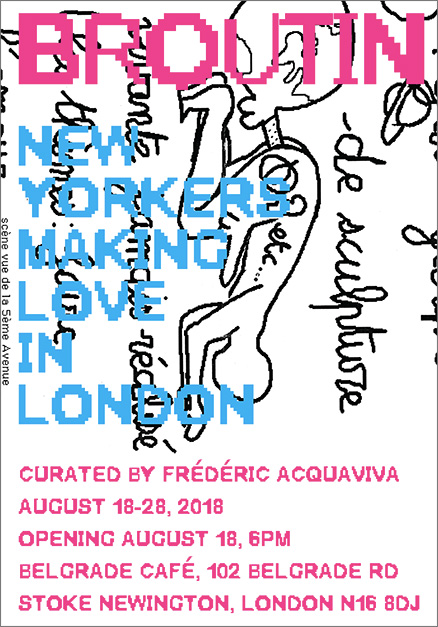 BROUTIN
"New Yorkers making love in London"

August 18-28 2018

Curated by Frédéric Acquaviva

Opening August 18, 6PM

Belgrade Café, 102 Belgrade Rd
Stoke Newington, London N16 8DJ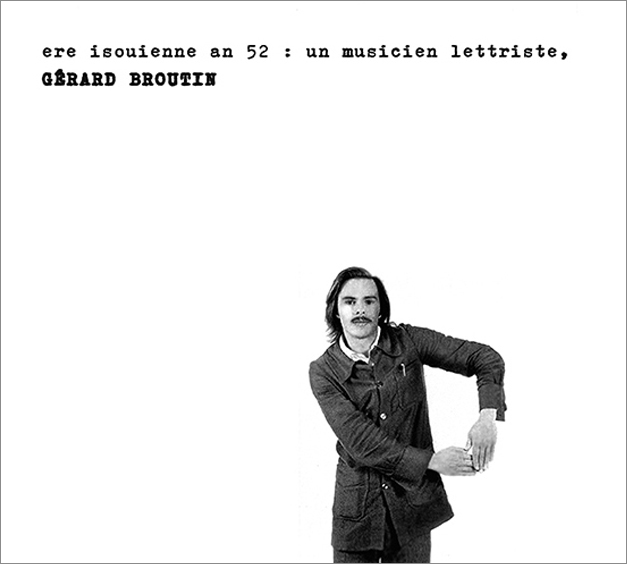 Ère isouienne an 52: un musicien lettriste

June 02 2018

Gérard Broutin CD
(Tochnit Aleph TA124)
An edition of 300 copies in six-panel digital.
"First ever release of the text-sound pieces by French lettrist artist Broutin (b.1948). The remarkable lettrist pieces contained on this CD were written during the early 1970's and recorded and broadcasted at Radio France in September 1976. Introductory texts by jean-Pierre Gillard."
(Thanks to Frédéric Acquaviva).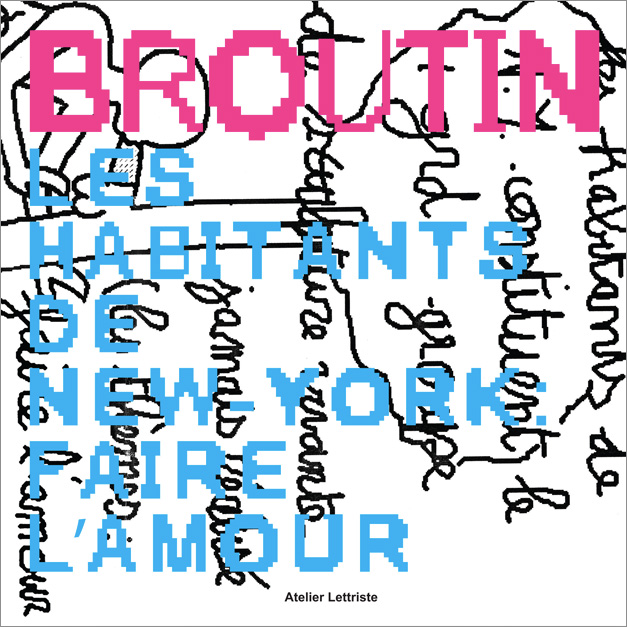 New Yorkers : to make love

June 22 2018

An edition composed of 40 pages, size 21 x 21 cm, cover paperback, binding staple bound.


Order: Librairie Lecointre & Drouet https://lecointredrouet.com/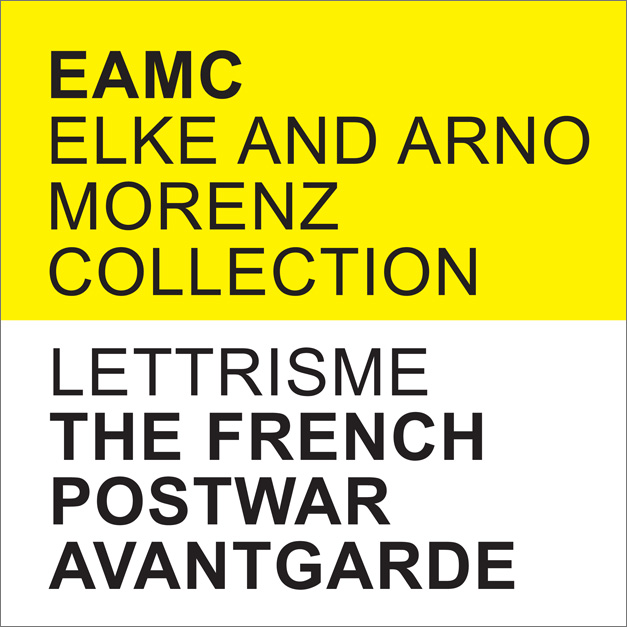 SOULÈVEMENT DE LA JEUNESSE – ''AUFSTAND DER JUGEND''
EINLADUNG ZU EINEM ABEND ÜBER UNTERGRUND, GEGENKULTUR UND REVOLUTION – UND IHRE KUNST MEETINg with Broutin and sylvain monsegu

May 28 2018

LIEBE FREUNDE,
heute laden wir Sie zu einem sehr besonderen Abend aus Anlass des weltweiten Rückblicks auf die Ereignisse im Mai vor 50 Jahren in Paris ein. Die historische Beziehung und Ursächlichkeit zwischen Lettrismus und seiner späteren Abspaltung, der "Internationale Situationiste", zu der Studentenrevolte in Frankreich haben wir in der Anlage kurz dargestellt.

Am Montag, den 28. Mai, um 19 Uhr kommt PROF. SYLVAIN MONSÉGU aus Paris zu uns, Homme de Lettres und Spezialist für avantgardistische Poesie, Untergrund-Kunst und ihre Wechselwirkung mit gesellschaftspolitischen Strömungen. Bereits der Titel seiner jüngsten Publikation verrät Kampfgeist: "Aufstand der Jugend – wie man ihn den Ruheständlern erklärt, die unsere Welt regieren". Weiter wird einer der wenigen noch lebenden Alt-Lettristen, BROUTIN, den Abend mit seinen Erinnerungen an Paris im Mai 1968 beleben. Broutin stieß in den 60er Jahre zu Isou und seiner Gruppe, für deren Anliegen er zeitlebens kämpfte. Er lebt jetzt in Berlin.

Wir werden an dem Abend nicht altbekannte Fotos von Straßenkämpfen usw. zeigen, sondern einen Einblick in Hintergründe und Evolution der revolutionären studentischen Bewegungen seit 1949 nehmen, die letztlich zu diesen Ereignissen führten. Unser besonderes Interesse gilt natürlich den Beiträgen von Kunst und Künstlern zu den revolutionären Entwicklungen. Wir werden Protest-Bilder von Isou, Lemaître, Brau, Wolman und Sabatier sowie zahlreiche lettristische und situationistische Dokumente aus den fünfziger und sechziger Jahren zeigen. Wir hoffen, dass auch eine Neuerwerbung, das Bild "Revolution" von Gil Wolman rechtzeitig in Berlin ankommen wird.

Wie immer dürfen Sie mit einem Glas Wein durch die Sammlung wandern und sich hinterher zu einem Häppchen wieder zusammenfinden.

Wir hoffen sehr, dass Sie sich diese Leckerbissen nicht entgehen lassen werden und sind mit den besten Grüßen

ARNO MORENZ, SWANA PILHATSCH-MORENZ UND ISABEL HOLERT

RSVP bis 13. Mai 2018 an info@eam-collection.de

EAM COLLECTION
LETTRISM – THE FRENCH POSTWAR AVANT-GARDE

Sybelstr. 62    10629 Berlin    www.eam-collection.de [1]
info@eam-collection.de    facebook [2]

Links:
[1] http://www.eam-collection.de/
[2] https://de-de.facebook.com/eamcollectionberlin/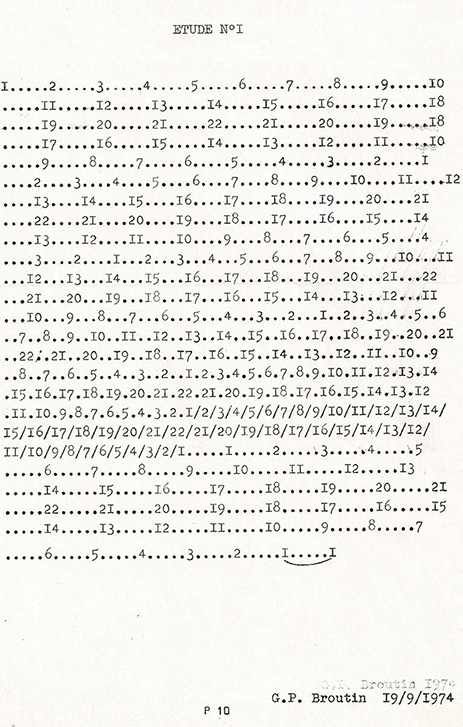 BROUTIN / RUMPSTI PUMPSTI
Haus für Poesie Berlin / Poesiefestival Berlin

May 25 - 31 2018

Exhibition: Sound Music. Sounds. Music. Selected Works from Rumpsti Pumsti
Curation: Daniel Löwenbrück
10 am - 9 pm
Selected works will be presented by Rumpsti Pumsti (music) - shop for sound art, artist records and music - with a focus on publications and artists of the in-house label Tochnit Aleph.
With works by Michael Barthel, Cia Rinne, Gerhard Rühm, Gérard Phillipe Broutin, Franz Mon, Dorothy Iannone, Toine Horvers and others.

MORE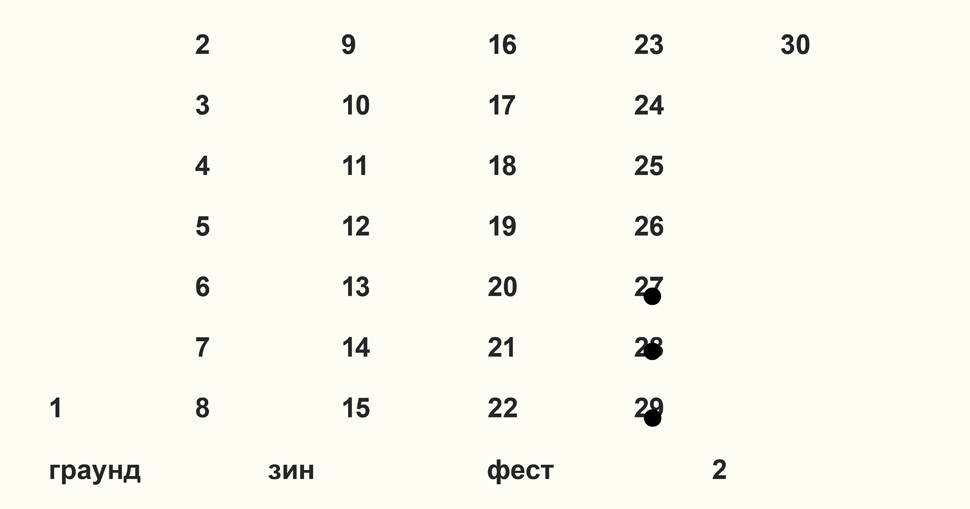 EDITIONS ACQUAVIVA

April 27 - 29 2018

Gound Music Zine Fest, Xodinka, Moscow

Broutin and various artists (CRU magazines + multiples, sound artworks, CDs, LPs, DVDs, Books, QR-Codes & Hybrids) curated by Katy Bochavar, Katya Savina and Marta Rukozenkova.

Ground Xodinka Aller
Ulitsa Iriny Levchenko,2
Moskva Russia 123298

MORE


POYET LETTRISTE (S)

April 20 - May 5 2018

Including a wall of works done by Isou, Lemaître, Broutin, Satié, Curtay, Sabatier (part of the collection that belonged to the late Elisabeth Leoncini).

Galerie Satellite
7 rue François de Neufchâteau
75011 Paris

MORE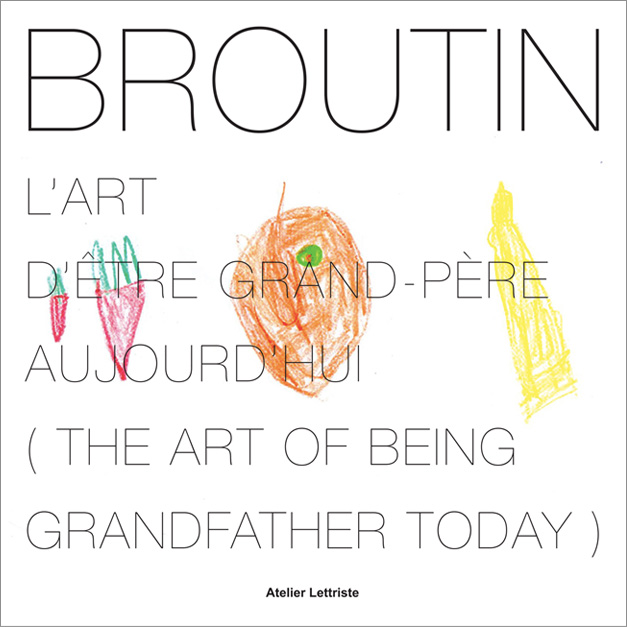 THE ART OF BEING GRANDFATHER TODAY

February 9 2018

An edition composed of 36 pages, size 21 x 21 cm, cover paperback, binding staple bound.


Order: Librairie Lecointre & Drouet https://lecointredrouet.com/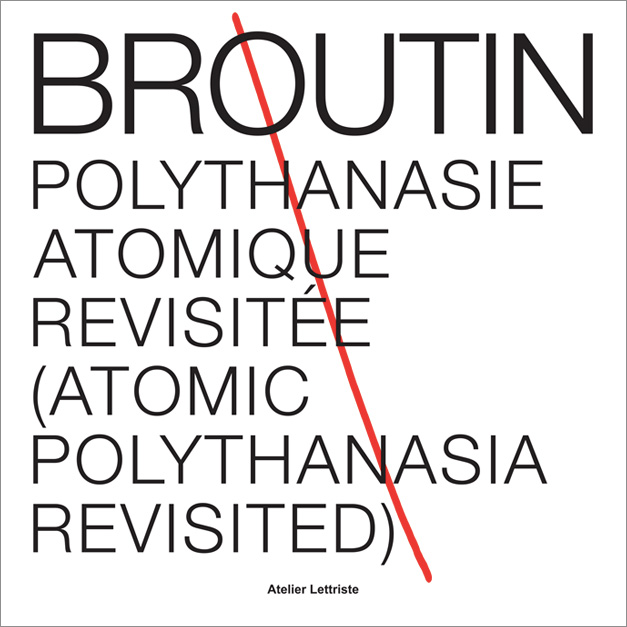 ATOMIC POLYTHANASIA REVISITED

January 16 2018

For Isidore Isou


An edition composed of 40 pages, size 21 x 21 cm, cover paperback,
binding staple bound.

Order: Librairie Lecointre & Drouet https://lecointredrouet.com/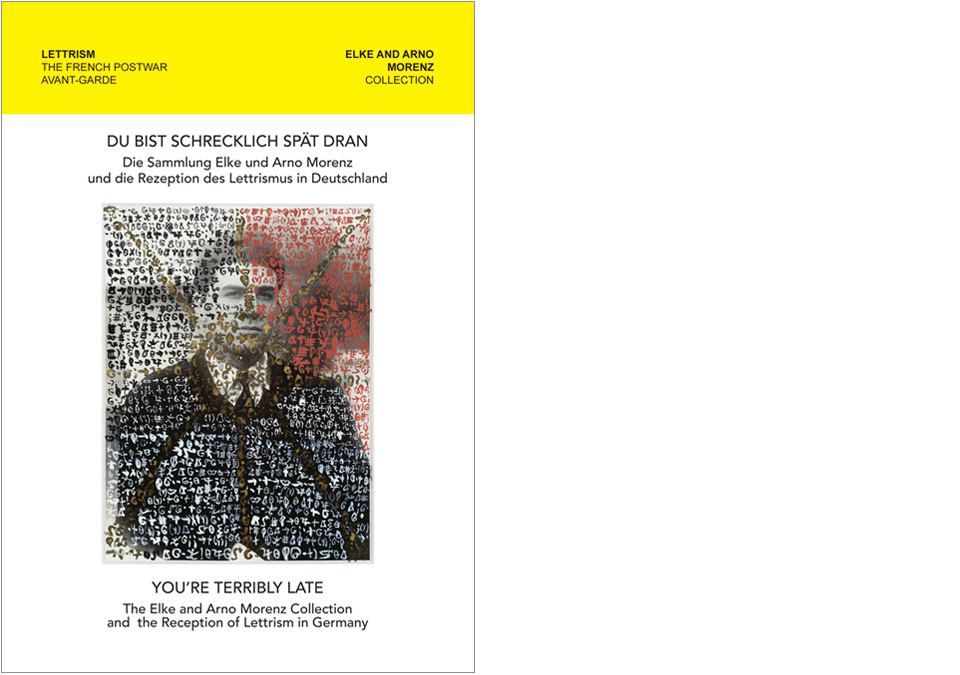 "YOU'RE TERRIBLY LATE"
The Elke and Arno Morenz Collection and the Reception of Lettrism in Germany

January 12 2018

Isou, Wolman, Lemaître, Sabatier, Broutin ... in the new Eam Collection publication.

Eam Collection edition, Berlin.
eam-collection.de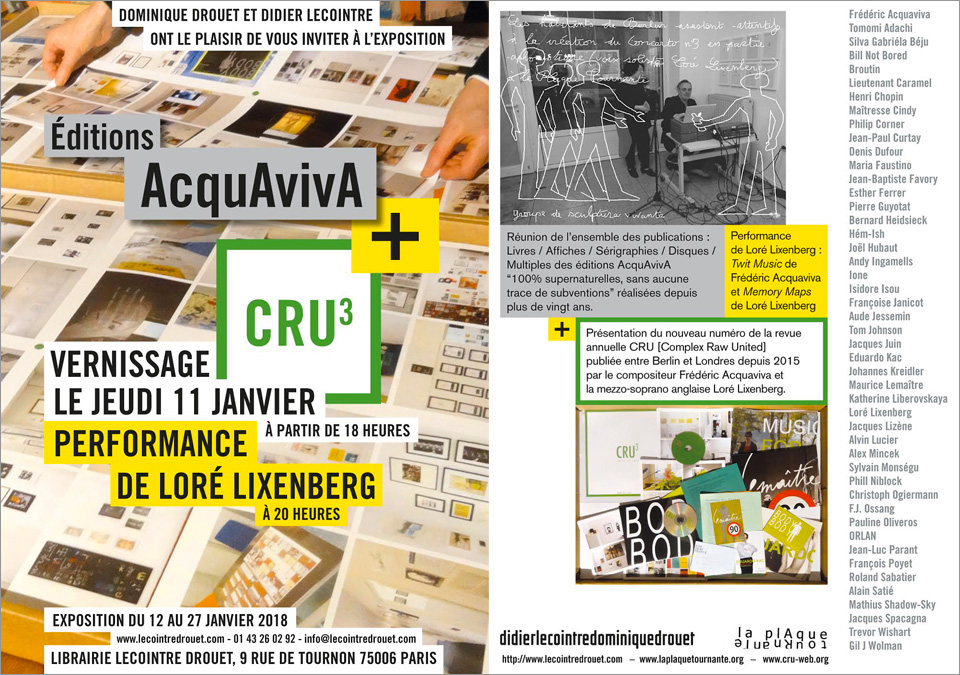 BROUTIN in the editions ACQUAVIVA AND CRU 3 AT BOOKSHOP LECOINTRE & DROUET

January 11 2018

N°14, CAHIER DE DESSINS, N°21, OEUVRES NECROPHILIQUES and N°32, CONCERTO POUR UNE BOUCHE ET QUATRE MEMBRES) and CRU2 (PAS A PAS LE NON-PEINTRE BROUTE).

editions ACQUAVIVA AND CRU 3
Bookshop LECOINTRE & DROUET
9 rue de Tournon
75006 PARIS

Opening January 11rst 2018
starting at 6pm (performance by LORE LIXENBERG)

Exhibition from January 11rst to 27th.

MORE